Sharpay - sharing is the new mining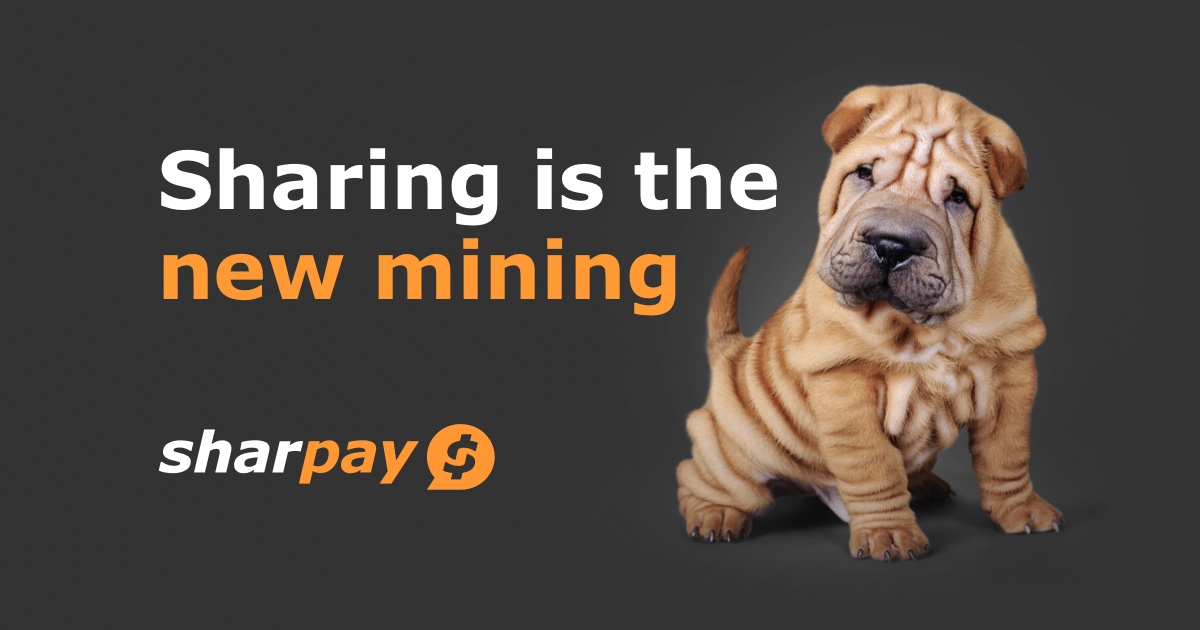 Sharing is the new mining
Select
account

type For multishare

Users

and

Webmasters

For

Presale

&

Token Sale

buyers News What is that For Sites For Users Roadmap Advisers Sign In EN ZH KO JP ES IT PT RU HI PH NL
Sharing is the

new mining
Shar

pay

is the share button with blockchain rewards Status: working product (Alpha) White Paper

Live Chat
Our
News
What is that
The shar pay is the share and multi-share button for sites with blockchain-based rewards for content promotion for users. Multisharing is an opportunity to share the content in several networks in one click. Users receive rewards for the act of sharing or for the visits of other users via the shared links (depends on site settings). All that means the conversion growth for sites and comfortable sharing for users.
The shar pay button can look like anything, for example, it can be designed like on this page or customized for the any webdesign you wish. The shar pay button can be any color and shape, it can have any logos of connected social networks. The main feature of the button is the code, which is activated when you click on the button. Also, we can use your own design and match it with our code.
Connections
Now Facebook, Kakao Story, Kakao Talk, LINE, Linkedin, LiveJournal, MailRu, Messenger, OK, Pinterest, QQ, Reddit, Skype, Telegram, Tumblr, Twitter, Viber, Vk, WeChat, Weibo, WhatsApp are already connected to the multisharing of the working version of the shar pay button. You can also copy a direct unique link and share it yourself on forums, blogs and in comments.
How it works
for sites
* Site's admin sees the ad and goes to shar pay .io – in the account on shar pay .io , all actions in the interests of the site are performed by its owner or administrator (manager), if there is an appropriate commission and authority.
Install

my first Sharpay share button

right now!

Get an extra reward of 400 S for installing Shar pay share buttons on my website!

To create my first project in Shar pay , I just need to enter my domain name and email address in the form and register in the system.

After confirming my email address, I will receive a code and instructions for installing the share buttons on my website.

Continue
How it works
for users
* The user goes to any site – the user's redirection online to any site that has already installed the shar pay , multi-sharing button, instead of all the usual share-buttons ** Clicks the animated shar pay button — at the time of the first sharing, the user automatically creates a personal cabinet in shar pay *** Shares content – the user published a link to interesting content on his/her pages in social networks, in one or more at his/her discretion **** Withdraws tokens – through a quarterly shar pay program of buying tokens, or through crypto-exchanges ***** Receive notification of a new content according to the targeting — shar pay sends to users, who meet specified criteria, notifications about the possibility to share new interesting content that sites promote for tokens
Advantages of
multisharing

and stimulating with

tokens

increase conversions distribution of the sites content in social networks increase of sites KPI number of active users, views, registrations, sales traffic increase to sites usability and the possibility of earning tokens (digital currency, crypto-currency)
Timeline
&

roadmap 2012

The idea, patent applications to Rospatent (RF) and EAPO (Eurasia), the formation of the project concept

2013

Obtaining the first patent of the Russian Federation, start of the project development

2014

Testing the prototype, pilot installation of multisharing buttons on sites

2015

Filing the first patent application in the USA, finalization of the system

2016

Start of adaptation of the project to blockchain, improvement of the concept

2017

Launch of MVP shar pay .io , opening of the international patent PCT-priority for the new application for 152 countries, Presale, preparation for Token Sale

2018

Holding Token Sale, withdrawal of tokens under the project to international crypto-exchanges, development of the main functionality, development of buttons for mobile apps, promotion and sales in Europe and Asia, transfer of international patent PCT-priority to national patenting phases

2019

Migration of tokens to the blockchain system, adaptation of the project to the requirements of national regulators, entering the markets of Asia and Latin America

2020

Development and implementation of partner programs with websites and online stores of exchanging goods and services for shar pay token users, scaling of the project, access to all of the most important markets in the world, active marketing and sales
Our
Advisers

Ken Huang Well-known Blockchain Consultant

Worked for CGI Federal office in USA as Director of Cyber Security, and Director of Cloud Security. He established CGI Federal Identity Management Practice, and Cyber Security Competence Center. While working for CGI as Executive Consultant, Ken consulted the United States Federal Government, financial institutions, and utility companies and provided expertise in Finance, Blockchain, and Cyber Security. He graduated from Zhejian Normal University, Xian Jiaotong University in China and University of Lausanne in Switzerland.

Simon Choi Fintech & ICO Lawyer

International lawyer with more than 25 years of experience, qualified to practise law in England & Wales, and in Hong Kong, China. He is well known blockchain speaker and blogger, world top rated expert by icobench.com. Simon graduated from the law schools of Peking University, the University of London and the University of Hong Kong respectively. Simon provides advising and reviewing new blockchain regulations in various jurisdictions to ensure the highest degree of compliance and adherence to all relevant government policies towards blockchain technology.

Vincent Mascart Blockchains Witness, Developer & Blogger

Entrepreneur, Developer, founder of several companies, has provided consultancy to several international companies and is now totally focused on blockchain technologies. Blockchain enthusiast, оne of the TOP bloggers in the Steemit and Golos Blockchains. Witness for multiple DPOS projects (Steemit, Golos etc.), has succesfully created and deployed several blockchain based applications. Speaks French, English, Dutch, Italian, Chinese and is learning Russian.
Media

Thanks! Your have subscribed to our mailing list. Oops, sorry, something went wrong...

This website is the intellectual property of Sharpay Inc. (Belize). The information on the site is for informational purposes only, for non-commercial, personal use, does not imply any elements of a contractual relationship, may be incomplete and updated at any time, without prior notice, upon decision and at the discretion of Sharpay Inc. Unless specifically indicated otherwise, all information on this website is only indicative. Sharpay Inc. does not provide any express or implied guarantees, regarding the accuracy, completeness or reliability of the materials and data mentioned on this website. At the same time, Sharpay Inc. makes every effort to ensure that all information on this site was accurate and up-to-date at the current time. Information pertaining to the sale of Sharpay Inc. tokens should not be construed as an incentive to purchase and is the only or sufficient reason for the formation of such a solution. It is possible to participate in the purchase of Sharpay Inc. tokens only if the legislation of the country of residence (for individuals) or registration (for legal entities) allows it. Sharpay Inc. is not responsible for those who participate in this event in violation of the laws of their country, even if violations of these laws are due to ignorance. Sharpay Inc. is further not responsible for the requirements that the tax authorities of the country of residence (for individuals) or registration (for legal entities) can place, due to the purchase, possession and use of Sharpay Inc. tokens. Sharpay tokens holders are solely responsible for determining whether a potential valuation or reassessment of the value of Sharpay Inc.'s token is possible, in the long term, any tax consequences are in their jurisdiction. Sharpay Inc. strives to ensure that the information on this site is as accurate and up-to-date as possible, but waives any liability for damages arising from inaccuracy, irrelevance or incompleteness of information contained on this website. Sharpay Inc. encourages individuals and legal entities to seek additional advice from legal, tax, financial or other specialized independent specialists before taking any action, as a result of familiarization with the information provided on this website.

Privacy Policy

✕
Get an
extra reward

for my first sharing!

I need to activate my shar pay account right now and get 100 S as a welcome extra reward for sharing this page through this button:

✕ We inform you that this site uses own, technical and third parties cookies to make sure our web page is user-friendly and to guarantee a high functionality of the website. By continuing to browse this website, you declare to accept the use of cookies. You can find more information in the Privacy Policy . -->